Hotel Galvez Bar & Grill
Delicious Dining In Galveston
Galvez Bar & Grill, our onsite casual seafood restaurant, serves delicious Lone Star State specials and freshly caught Gulf Coast seafood in a gorgeous space with soaring ceilings and oversized windows to soak in all the natural light. 

Breakfast: 6:30 – 11 a.m. (Monday – Saturday) and 6:30 – 10:30 a.m. (Sunday)
Lunch: 11:30 a.m. – 2 p.m.
(Monday – Saturday)
Dinner: 5 – 10 p.m. Daily
Fantastic location, Superb service
Had some great service, so wanted to give a strong review particularly for Kelly as she was who really took the time to help us out. Carlos was another helpful one behind the bar. Some great hand crafted cocktails, good bar snacks, excellent food if you wanted a casual place to eat and the best place to ask where to go and what to do out and about on the island. Thanks to them all, and especially Kelly, our last night was again a great meal-probably our best. We took their word on a place to go.
-cpangle2018
Great Meal in Beautiful Surroundings
My wife and I celebrated our wedding anniversary by eating at the Galvez, The hotel has a real elegance and the quality of the meal matched the beauty of the dining area. I would especially like to praise our waitress who was informative regarding the menu and helped to make this a memorable occasion.
-GerardNotts
Wonderful Brunch
We had a fantastic waitress named Nanette. She was super attentive and warm. The food at brunch is always outstanding. It's a wonderful treat for any occasion!
-Kat5409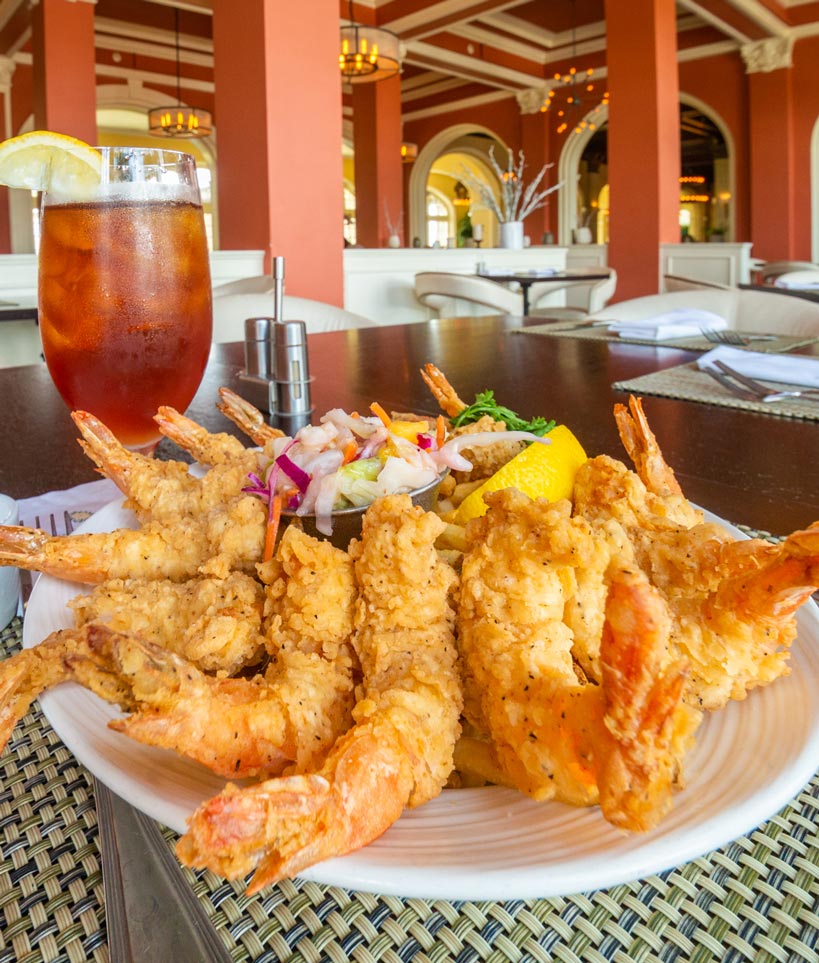 All-You-Can-Eat Shrimp Fry

Limited Time Offer
Satisfy your fried shrimp craving at Galvez Bar & Grill with All-You-Eat Fried Gulf Shrimp for $18.95/per person. This fried shrimp special comes with French fries, Waldorf slaw and a cornbread muffin with creamy butter. Enjoy this special in the restaurant from 5 to 8 p.m. daily. Walk-ins are welcome. Complimentary valet is available to restaurant patrons.
*Offer not valid on holidays.